A Programme of Events
July 28 – July 29, 2023
–
Archive material on display: 28.–29. July, 12:00–18:00, VBKÖ
Talk and Discussion, Aperizoccolaat: 28. July, 18:00, Burggarten
Participative Flash-Mob, Sex Work is Work!: 28. July, 21:00, Schillerplatz
Dance Contest, Dance like there is no tomorrow: 29. July, 18:00–21:00, VBKÖ
Slutting Around is a programme of events on the topic of sex work realised by the Italian group of artists and activists Le Zoccole Dure.

Part of the VBKÖ annual exhibition programme Daring Bodies, Slutting Around is curated by Agnese Reginaldo and will take place between the 28th and 29th of July within and outside the VBKÖ spaces. Le Zoccole Dure will present a participative flash mob, a dance contest, public talks, and discussions that sees the participation of the Committee for the Civil Rights of Prostitutes (CDCP – Trieste) and the Information, Education, and Support for Migrant Women (LEFÖ – Vienna), Christine Nagl (Frau und Arbeit) and Thorja from sexworker.at.

An archive of Le Zoccole Dure will be available during the opening hours of the VBKÖ and will include – but is not limited to books, photos, magazines, videos, and the game Puttanopoli (Whoreville), a board game developed by CDCP with the intention of increasing public awareness of the expanding issue of sex slavery.

Slutting Around aims to reflect and generate discussion around the politics of sex for money, human rights, feminism, diversity, and inclusion.

Detailed Programme:
Friday 28th July – 18.00 to 20.00
Aperizoccola (Talk and Discussion) @ Burggarten
The event programme is opened with an Aperizoccola, where while drinking Prosex.
We will discuss topics related to the politics and misconceptions behind the sex work industry. On this occasion the Committee for the Civil Rights of Prostitute, LEFÖ (Beratung, Bildung und Begleitung für Migrantinnen*), Christine Nagl (Frau und Arbeit), Thorja (sexworker.at), and Le Zoccole Dure will present their work and mission, aiming to generate exchange and present different perspectives hopefully able to provoke a discussion also with the audience. All together under red umbrellas1 will move to Schillerplatz.

Friday 28th July – 21.00
Sex Work is Work! (Participative Flash-Mob) @ Schillerplatz
Le Zoccole Dure together with the audience will build a large size mandala made of red candles composing the sentence Sex Work is Work!
This performance was made only once in 2015 in Rome on the occasion of the conference Sex Work is Work. The goal is to involve the audience in a collective ritual where the process of construction is the central part of the performance and to symbolically shed light on the condition and rights of sex workers.

Saturday 29th July – 18.00 to 21.00
Dance like there's no tomorrow! (Dance Contest and Closing Party) @ VBKÖ
The Dance Contest celebrates everything that does not conform to the rules!
It honors improvisation, diversity, imperfections, and the pure fun of taking risks and just performing. Participants do not know what they will dance or who they will dance with. The canonical man-woman couple does not exist and the couples are chosen randomly by a jury. It is hosted by a presenter that doesn't know much about dance and there is a corrupt judge that takes money to accommodate the wishes of the participants.

Le Zoccole Dure
Le Zoccole Dure2 (The Tough Sluts) is a group of women, artists, non-binary subjectivity, wives, mothers, countess, workers, and activists who have decided to break the ancient polarity that exists between the idea of a woman as a saint or a whore. By calling themselves Sluts, they re-appropriate an epithet that has been used for millennia, often applied in a derogatory way to women who have departed from sexual conformity.

Born in Venice in the early 2000s, the group has fun, reflects, and disseminates issues related to sexuality, trans-feminism, and self-determination. With the aim of clashing the stigma relevant to issues related to the body, gender, and diversity, they collaborate with individuals as well as with organizations including the Committee for the Civil Rights of Prostitutes, supporting their campaign and the endless struggle to obtain the recognition of sex work as a legitimate profession. In this regard, they strongly believe in the practice of sex work as a means of self-determination and feminist attitude while it is possible to fight sexual exploitation.

Le Zoccole Dure's spirit and poetry are inspired by the 20th-century avant-garde movement 'Situationist International' focusing in particular on the link between art and politics with an anti-capitalistic approach. While constructing situations and moments of sharing they highlight the importance of the lived experience through collective actions.

Their projects include Jamais Bourgeois – a collection of fake magazine covers – participatory performances such as Sex Work is Work!, and the public Dance Competitions. Le Zoccole is also the author of the Aperizoccola3, entertainment and debate programs, where, together with Prosex4, reflections on challenging and not too discussed content are consumed through the perspective of the protagonists of these stories. Their approach is playful and performative in nature but never superficial, emphasizing what Le Zoccole identifies as The Weight of Lightness.
Committee for the Civil Rights of Prostitutes
The Committee for the Civil Rights of Prostitutes (CDCP) is a non-profit association that was founded in 1982-1983 by sex workers. In 2004, it registered as ONLUS organization. Its main objective is to provide assistance to prostitutes. The Committee organizes sensitization campaigns aimed at raising public awareness of the dignity and rights of sex workers; promoting vocational training courses for the empowerment of women prostitutes and improving their quality of life. The Committee also acts as an interlocutor with political forces interested in changing the law on prostitution with the following principles: decriminalization of prostitution, abolition of mandatory health checks and of all kinds of card indexing, and the freedom to be a sex worker as a legal worker. the fight against the exploitation and trafficking of human beings coerced into sexual activities, obtain the recognition and the protection of the civil rights of sex workers demanding the modification of those aspects of legislation which obstruct their complete social inclusion. Since 1986, the Committee's members have worked on disseminating information campaigns on AIDS and on harm reduction aimed at sex workers in general. In 1995, it started assisting trafficked persons by promoting self-emancipation.
https://www.lucciole.org/committee-for-the-civil-rights-of-prostitutes-onlus-cdcp-onlus/

LEFÖ (Information, Education, and Support for Migrant Women)
LEFÖ is an association by and for migrant women founded in 1985 by Latin American women living in exile in Austria. LEFÖ has made an exerted effort to respond to migrant women's diversified and complex needs due to the migration movements over the past 25 years. LEFÖ has been a pioneer in Austria in working with migrant women in sex work and with women affected by trafficking. Today, LEFÖ is still the only organization in Austria that provides a broad spectrum of counseling and support for migrant women and advocates for their rights.
https://lefoe.at/en/history/
1 The red umbrella is since 2001 the global symbol for the rights of sex work.
2 Zoccole (feminine plural form of zoccola, 'sewer rat'); a slang term for sexually promiscuous women. The term is also used ironically to address to women that know what they want and are determined in getting it.
3 From 'Aperitif'; the Italian tradition to drink and nibble something before a meal.
4 From 'Prosecco'. Le Zoccole made their own label 'Prosex' to cover the original one.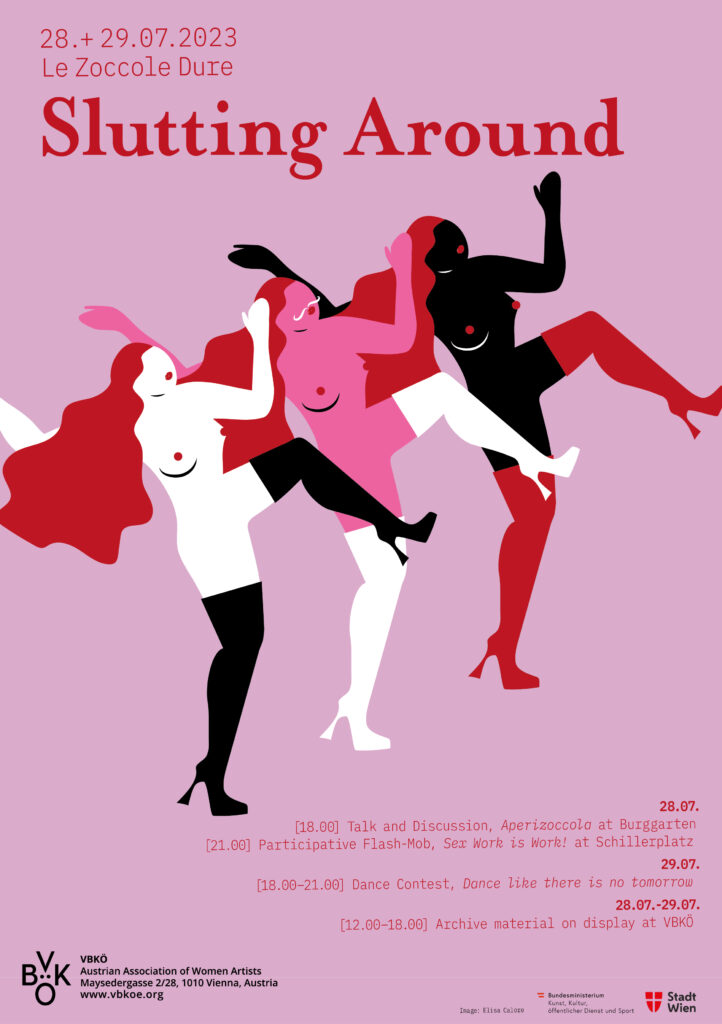 graphic by Elisa Calore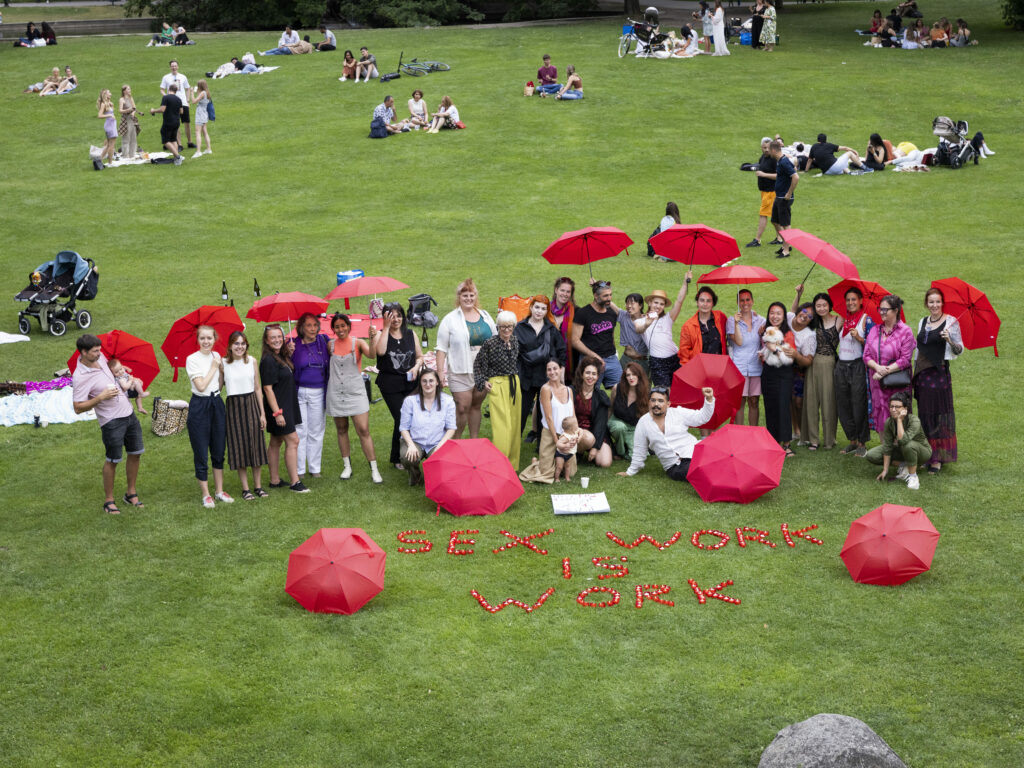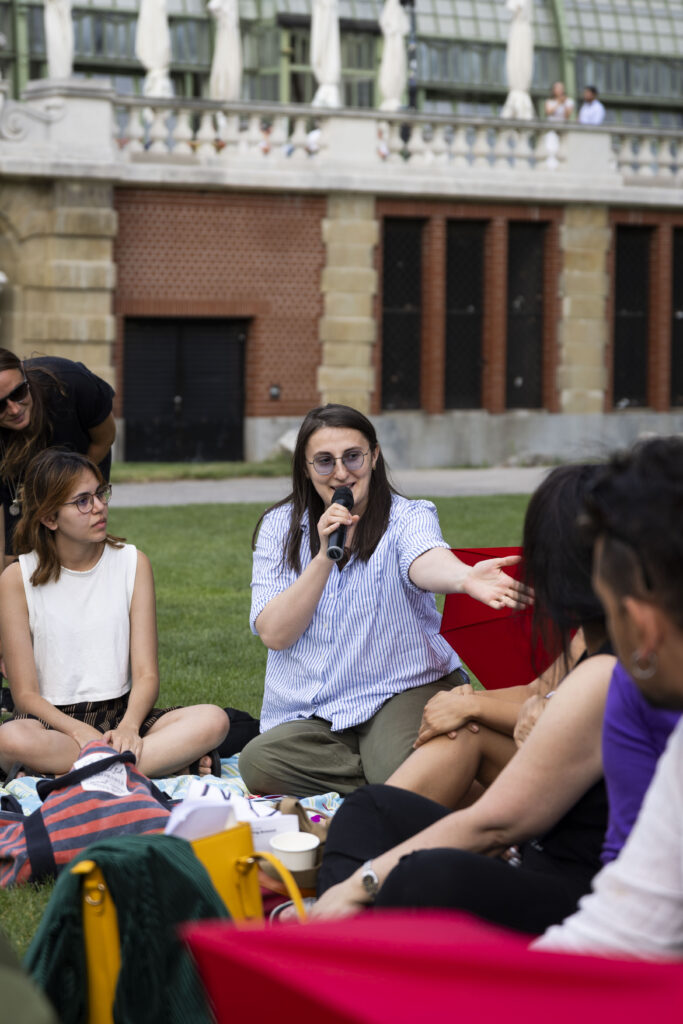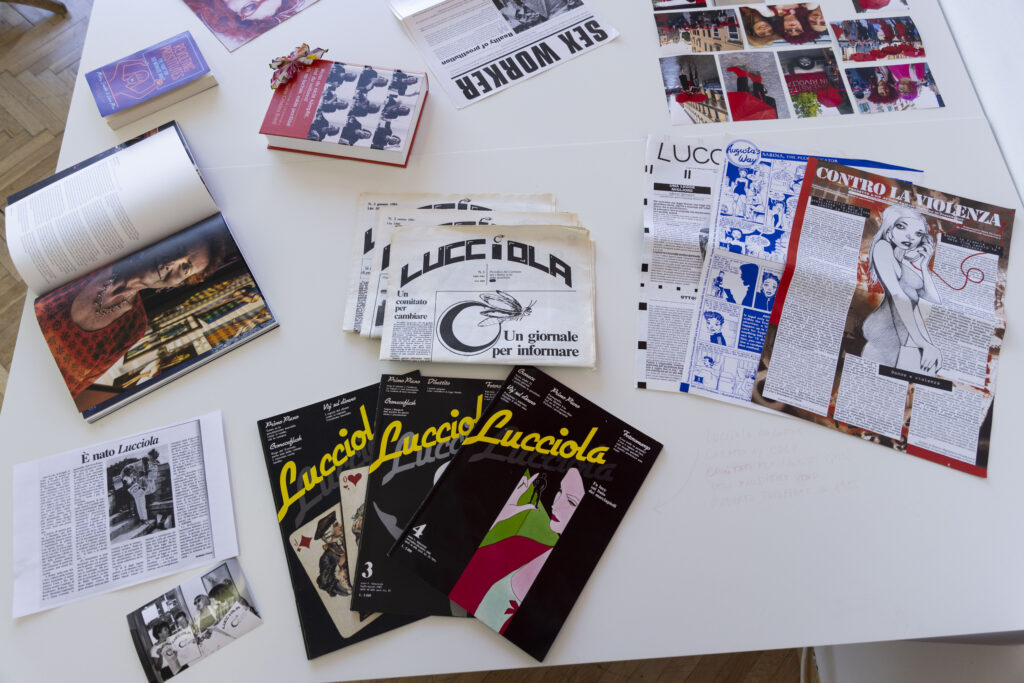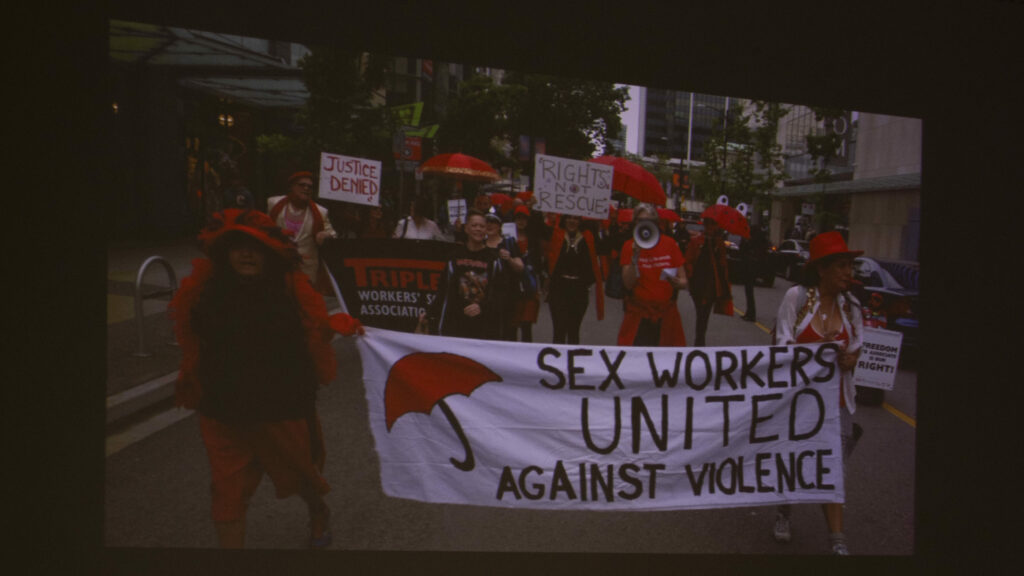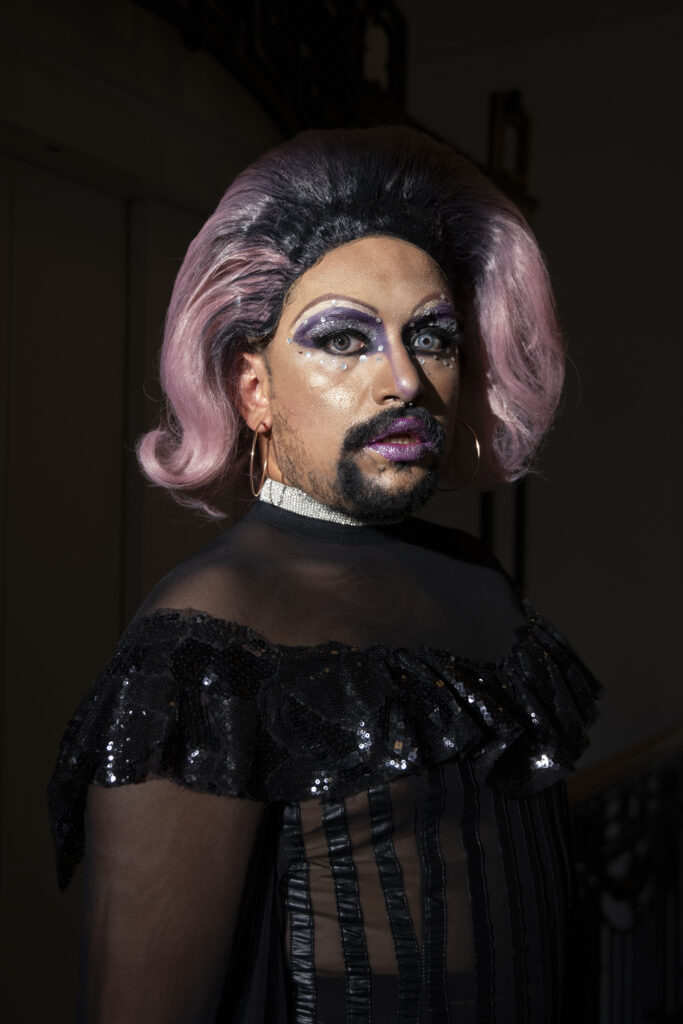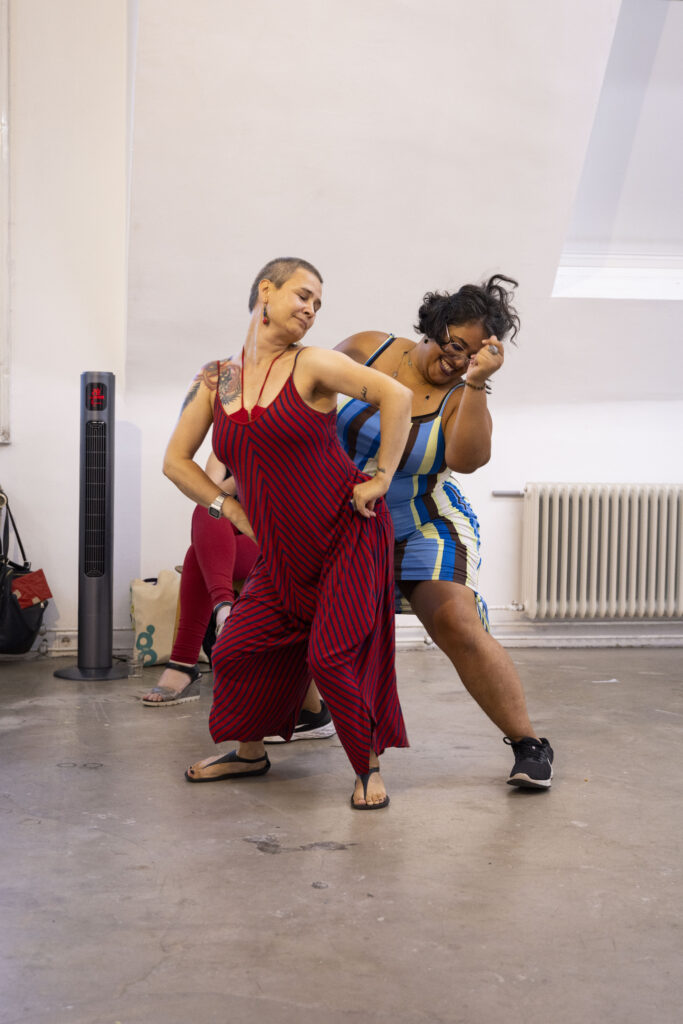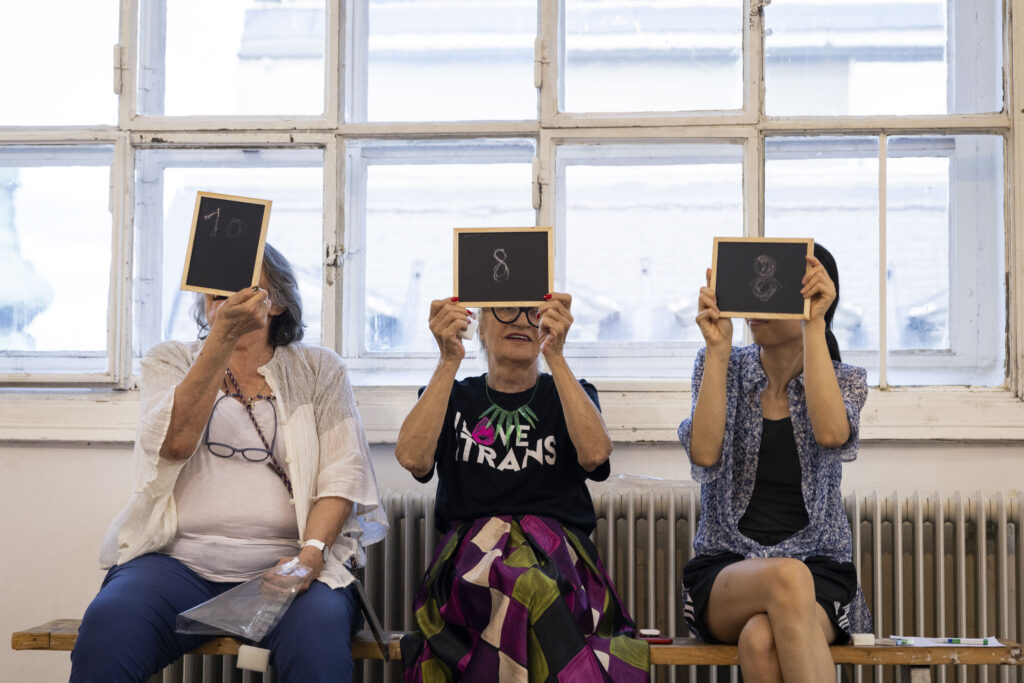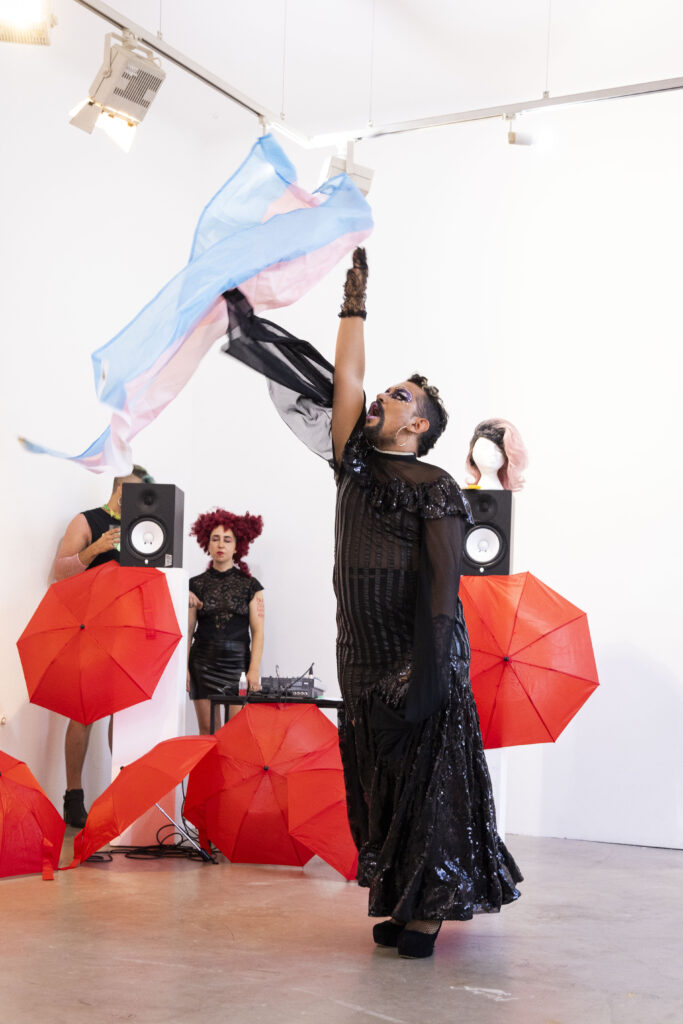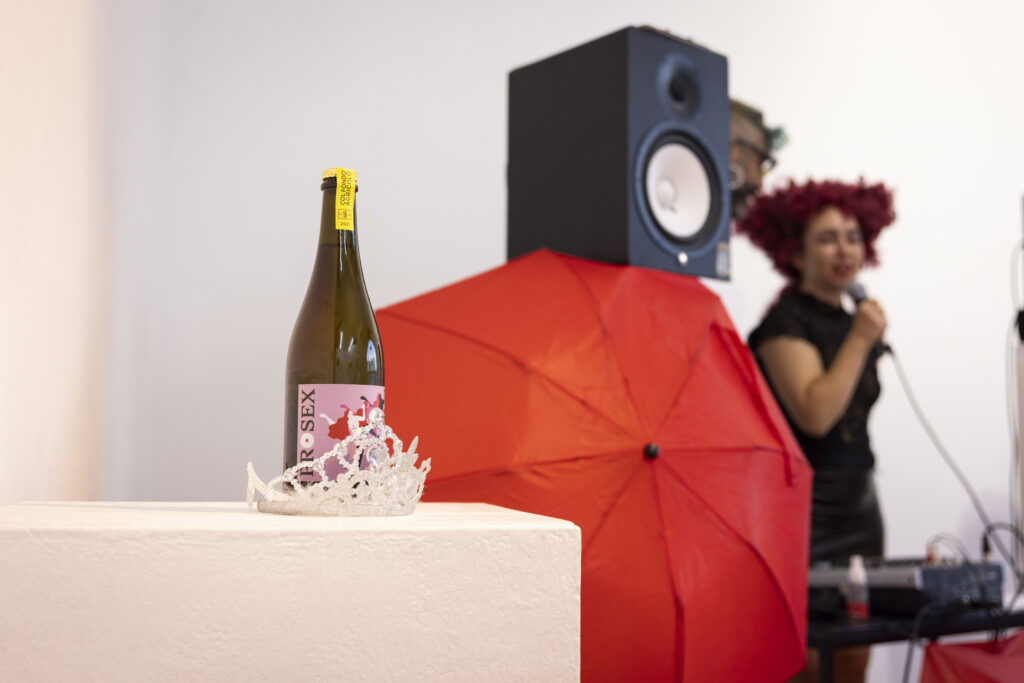 photos © Marisel Bongola