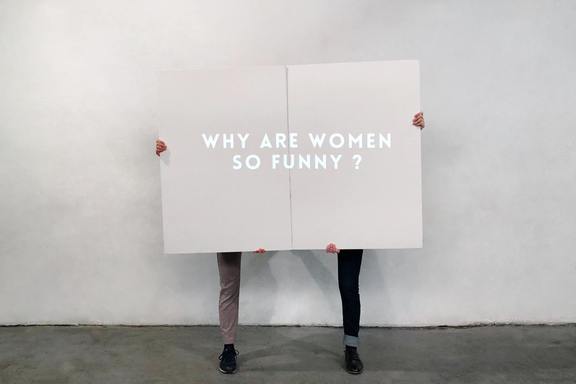 Premiere on the 11th of April in the program of brut Wien.
Performance dates and venues:
VBKÖ – Maysedergasse 2, 1010 Vienna
11.04.2018, 20:00
13.04.2018, 18:00
14.04.2018, 16:00
14.04.2018, 18:00
das weisse haus – Hegelgasse 14, 1010 Vienna
17.04.2018, 20:00
21.04.2018, 18:00
21.04.2018, 20:00
Running gag scrutinises power and gender ratios in the realm of humour: Who's allowed to be funny, and who laughs at whom? On the lookout for female role models in the history of humour, Sööt/Zeyringer examine slapstick comedies from the 1910s, shedding a light on gender and humour at a time when the role of women was undergoing major changes.
The starting point of this lecture performance are the courageous, extraordinary and witty heroines of the silent-film era in the early 20th century. While they were influential, famous and popular during their lifetimes, they are mostly forgotten today. In the course of their research in archives, Sööt/Zeyringer discovered female pioneers of silent film named Marie Dressler, Ossi Oswalda and Sarah Duhamel. In their films, they wreaked havoc, dressed in men's clothes and put their bodies to highly expressive uses. Many female actors, directors, screenwriters and producers used humour as an empowerment strategy and a method to break through existing limitations. In Running gag, Sööt/Zeyringer use historical footage, film clips, facts and personal stories to collage a fictional documentary about the ever changing relationship between gender and humour now and then.
Concept Sööt/Zeyringer Performance Tiina Sööt, Dorothea Zeyringer Research and text Emilia Lichtenwagner, Sööt/Zeyringer Artistic advice and coaching Nora Jacobs Artistic and dramaturgical advice Andrea Salzmann Set design and video Nora Jacobs, Sööt/Zeyringer Rehearsal assistant Emilia Lichtenwagner Costume Signe Rose
A co-production by Sööt/Zeyringer and brut Wien. With the kind support of the City of Vienna's Department of Cultural Affairs. Thanks to Fleetstreet Residenz Hamburg.