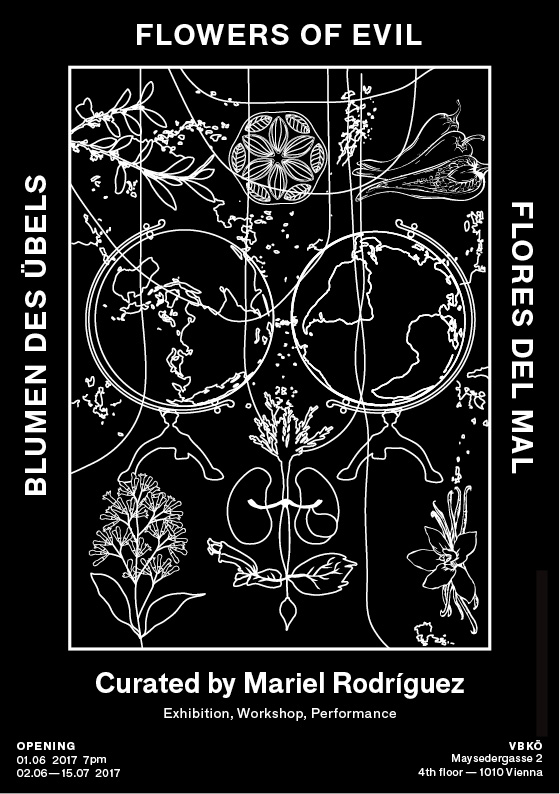 Illustration: Imayna Cáceres, Planta de Coca, 2017

FLOWERS OF EVIL: NATURE AND THE COLONIAL WOUND brings together works by Carla Bobadilla, Imayna Cáceres, Edinson Quiñones, Sandra Monterroso, Sofi Utikal and Mariel Rodríguez to rethink relationships between body, nature, politics and technology. It calls for a reflection about neo-colonial forms of plunder and exploitation of nature. Through historical analysis, autobiographical perspectives and poetic metaphors, the artistic positions react to different stories of cultural appropriation and claim for a recognition of the role that indigenous people's lifestyles, traditions and knowledge have for the conservation of biodiversity.

OPENING: Thursday, June 1, 2017, 7pm
EXHIBITION DURATION: June 2 – July 15, 2017
OPENING HOURS: Fridays 5-7pm and Saturdays 4-7pm (closed on June 30 and July 1, 2017)
WORKSHOP "Türkische Weizen: Benennung/Umbenennung/Anerkennung"
about the cultural history of maize in Austria by Carla Bobadilla
Friday, June 9, 2017, 3-6pm
PERFORMANCE "Underneath my skin // watch me grow"
about plants that grow together and are always connected by Sofi Utikal with Laura Sobenes
Friday, June 16, 2017, 7pm
PRESENTATION "Popayork"
Edinson Quiñones presents an Artist in Residency Program for critical-environmental thought integrated to ancestral technologies and poetics in Cuaca, Colombia
Friday, June 16, 2017, 8pm
GUIDED TOUR by curator Mariel Rodríguez
Saturday, July 8, 2017, 6pm
Realized as part of a scholarship from kültüř gemma!
Sponsored by the City of Vienna, Department 7 – Culture
Sponsored as a special project by the Österreichischen Hochschüler_innenschaft
Financial support from the Otto Mauer Fund