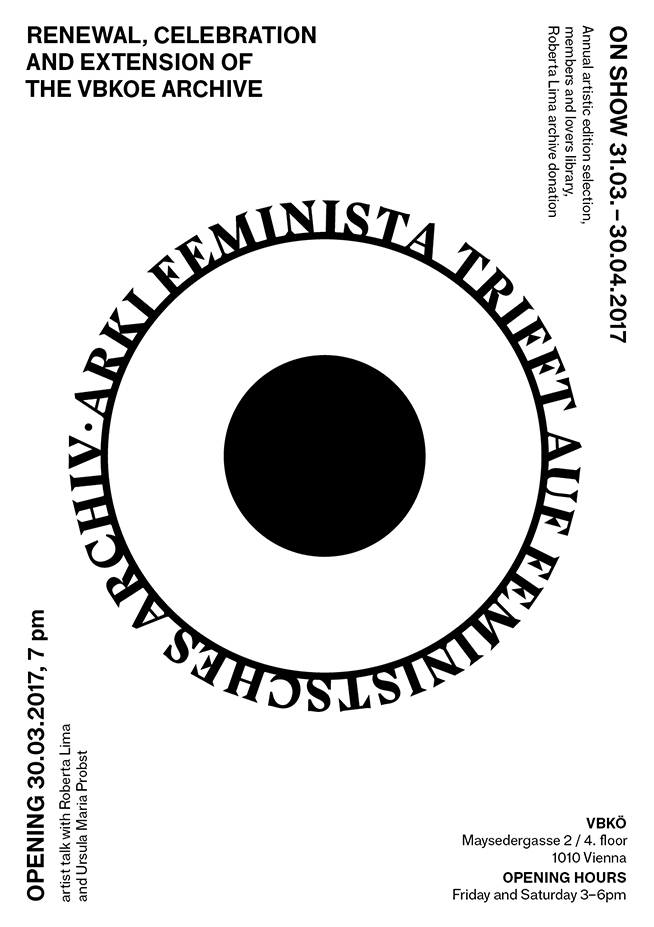 ARKIFEMINISTA TRIFFT AUF FEMINISTISCHES ARCHIV
Renewal, Celebration and Extension of the VBKOE archive
Opening
30.03., 7pm: artist talk with Roberta Lima and Ursula Maria Probst
On show
31.03.-30.04.: Annual artistic edition selection, members and lovers library, Roberta Lima archive donation
Opening hours/Location
Friday and Saturday 3-6pm, VBKOE – Vereinigung bildender Künstlerinnen Österreichs, Maysedergasse 2, 4. floor, 1010 Vienna
FEMINISTISCHES ARCHIV
Renewal, Celebration and Extension of the VBKOE archive
We are very happy to present to you the first part of our project: beginning to contemporanize the VBKOE archive – now spanning more then a century!
Till now there is almost no visible material from the last decade documenting the work of their participants. We have now opened the archive and invited those who have been participating in the VBKOE's programme in the last years to donate material to document the ongoing artistic work in the queer-feminist field and related realms.
The first part of the opening of the archive includes the showing of material from Roberta Lima who donated art work and her feminist archive to the VBKOE (including print and media publications): WELCOME TO ARKIFEMINISTA.
It also includes the opening of the member's and lovers library and the introduction of annual boni from our members. Including work by Cathi Bond, Veronika Dirnhofer, Hilde Fuchs, Julia Gaisbacher, Eva Hettmer, Anneliese Schrenk, Angela Wiedermann and others.The catalogue of annual boni (Jahresgaben) will be online soon!
The second part of the project will continue in fall – please, check out then our updated archive!
Arki Feminista
Roberta Lima
Through performance and performative installations Roberta Lima discusses the meanings of thinking art as collaborative: a dialogue between art and space, the artist and the viewer, as well as the various participants and producers of the work.
In her latest series entitled "Transitions", Lima shares her experiences in other surroundings, such as Finland and the Philippines. In these works Lima debates the environmental aspect of feminism in everyday life and art. These "new spaces of the performative" offered Lima the opportunity to explore with self-sustainability and alternative sources of materials for producing and performing artworks. Lima explore with the aspect of everydayness by reproducing images and gestures of washing, hanging, dripping as a metaphor for the art production and consumption. The performative and element of self-representation enable the work to the viewer. They create a narrative: the canvas is washed wrapped around the body; the sea air prepares the canvas; the snow drips on the canvas. Likewise, the presentation of the artworks in the space of the gallery plays an important role in Lima's concept of the feminist of everydayness, as multitasking woman. The canvas hangs in the space, above the viewer's heads, like a cloud. The rope/wires interlace the space, like a network: between living, moving, and working in Austria, Finland, and South East Asia.
Note on the title:
It origins from the combination of the words "arch" (English) or "arq" (Portuguese) to the words "feminist" or "feminista" (Portuguese). The two terms in both English and Portuguese languages, refer to important elements of Roberta Lima's work, such as archive, architecture, and archetype.
The idea of using a "k" instead of "ch" or "q" served to transform the word in a more colloquial way, like slang. When Lima wrote "ArkiFeminista" she discovered that in Finnish it actually means "feminist of everyday".
Fotos: Julia Gaisbacher