WHY WE REMOVED THIS IMAGE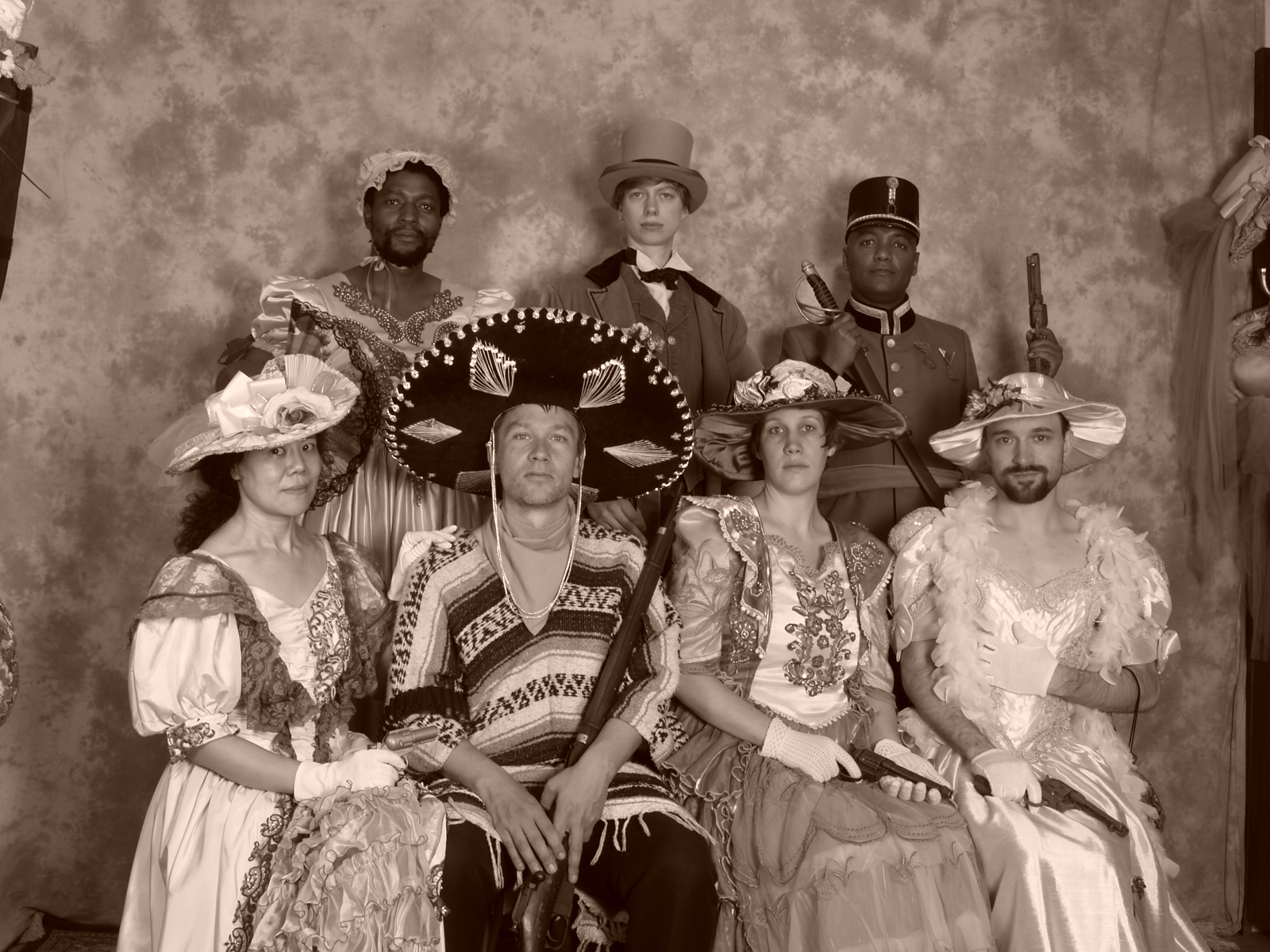 The application for the project "Familiarity – Imperial Myths. Unexpected Queerings" (Oct. 29 – Nov. 24th, 2015) was displayed here. The project brought together different artistic positions for presenting contemporary, decolonizing moments. Particular emphasis was placed on experiences of violence in the public and within migration.
The project application contained a photograph from the photo studio "Your Photo in 1900" at the Prater. That photograph was produced by the artist Sabelo Mlangeni during a workshop hosted by the Academy of Fine Arts Vienna in summer 2015. Mlangeni was invited by the Academy of Fine Arts Vienna to do a Vienna-oriented art project as an Artist in Residence in summer 2015. The entire project, entitled "Hotel Vienna," was partly on display at the VBKÖ. It included the removed image, which showed the workshop participants in costume/drag. The photo displayed an exoticized Vienna. The image did not display a situation from 1900 Vienna. Instead it displayed a cliché from a Western movie. Among others, a white masculine person in "Mexican" garb (with sombrero and embroidered outerwear) was shown.
As I was shown the image in fall 2015, I, Ruby Sircar, the project organizer at the VBKÖ, did not immediately notice that it was a reproduction of racist structural violence in which there was no visible rupture. My interpretation of the image was too loaded with preconceptions of historically popular colonial costumes related to Austrian colonialism in the 19th century that I was imperceptive to the direct violence which was represented by this depiction of a white man. The image is not decolonizing and not anti-racist, rather it contributes to the structural violence of images.
As this relation was pointed out to Sabelo Mlangeni by Imayna Caceres, he immediately removed the image from the exhibition. At this time, I would like to thank Imayna Caceres, who was the only public voice which demanded action and contributed with constructive suggestions for resolving the situation.
As the one responsible for the project, I would like to position myself against racism and structural violence (also in images) once again, and to apologize for the inobservance which affected this project and those involved, and which contributed to a repetition of violence.
I would thus like to position myself in the debate concerning institutionalized violence in images, especially regarding forms of racism. I would like to emphasize again that the selected image was not decolonizing. It instead reinforced clichés. This type of reproduction and reinforcement appalls me, and I will ungrudgingly contribute to preventing them.
Ruby Sircar
Project organizer
Exhibition and 5 o'clock Tea
FAMILIARITY.
Imperial Myths. Unexpected Queerings.
30.10.-24.11.2015
Simone Bader, Amoako Boafo, Rehad Desai, Mulugeta Gebrkidan, Maren Grimm, Lydia Hamann+Kaj Osteroth, Jakob Krameritsch, Sabelo Mlangeni, Ruby Sircar
Opening: 29.10.2015, 7pm
Programme:
03.11., 5pm: 5 o'clock Tea #1 Orange Blossom: Sabelo Mlangeni
18.11., 5pm: 5 o'clock Tea #2 Rooibos: Workshop Report: Film Screening: "Aus der Distanz schwer möglich. Potemkin, Platin, Postkolonial": Maren Grimm/Jakob Krameritsch
18.11., 7pm: Film Screening: "Miners Shot Down": Rehad Desai
21.11., 2pm: Guided Tour: Vienna Artweek
24.11., 5pm: 5 o'clock Tea #3 Punch: Artist Talk: Mulugeta Gebrekidan/Simone Bader/Andrea Braidt
THE FAMILIARITY CONCEPT
What is familiarity? According to Webster's Dictionary the state of being familiar with/familiarity includes a range of possible interpretations – the most positive one: being close and intimate. But it also enfolds other possible meanings such as impropriety and includes notions of forced closeness. Bondings and entanglements which allow familiar relations and perspectives thus ensure a wide range of interpretations, especially when connected to various art forms and contents.
The invited artists and participants of the exhibition project all play with imagined, possible and actual familiarities which are rooted in decolonizing practices and invite the public to share their perspectives on migration, decolonization and queer artistic practices.
THE 5 O'CLOCK TEA CONCEPT
What could be more imperial then a steaming hot cup of tea, consumed with a cucumber sandwich? Going back on a traditional late-afternoon entertainment format, also practiced early on at the VBKOE, the project tries to break and discuss colonial images. So lean back and enjoy neo-imperiality deconstructed.
THE PARTICIPANTS
SIMONE BADER
is an artist who lives and works in Vienna. She helped with the display for Auropa /አውሮፓ
AMOAKO BOAFO
Amoako Boafo was born 1984 in Accra, Ghana. Since 2013 he is based in Austria where he currently studies at the Academy of Fine Arts, Vienna. Since his graduation at the Ghanatta College of Art and Design in 2008, Boafo took part in group and solo exhibitions in various venues among others at the Dubois Center, the British Council, the Novotel, the National Museum in Accra, the Fortuna Galerie and "das Moped" in Vienna, Austria. Working in both paint and collage, Boafo incorporates elements from his daily life into his canvases that are inspired by the interlocked, social and political elements of his hometown Accra and his new home Vienna.
In his latest series, Boafo combines acrylics on card with fragmented pieces of collected visa applications, invitation letters, criminal record checks etc. The self-portrait series gives an insight into his personal experiences and the struggle with the European bureocracy system, while at the same time, the series can be read as resistance against society's racist structures. 2014 Amoako Boafo & Sunanda Mesquita were awarded with the kültür gemma! stipendium for their project "WE DEY".
https://amoakoboafo.wordpress.com/
ANDREA BRAIDT
Without her kind support this exhibition could not have been realized. Thank you!
REHAD DESAI
"Miners Shot Down" (RSA 2013, 85min, OmdtU)
In August 2012, mineworkers in one of South Africa's biggest platinum mines began a wildcat strike for better wages. Six days later the police used live ammunition to brutally suppress the strike, killing 34 and injuring many more. Using the point of view of the Marikana miners, Miners Shot Down follows the strike from day one, showing the courageous but isolated fight waged by a group of low-paid workers against the combined forces of the mining company Lonmin, the ANC government and their allies in the National Union of Mineworkers.
What emerges is collusion at the top, spiralling violence and the country's first post-apartheid massacre. South Africa will never be the same again.
The film is part of the Marikana Support Capaign who supported worker's after the massacre. As such the film helped to change the perspective even in South Africa on the massacre. The final report of the government commission was published in June 2015. No was been indicted.
www.minersshotdown.co.za
SABELO MLANGENI: HOTEL VIENNA
"As a photographer who has spent most of my life working in my home country South Africa and it's neighboring countries, the city of Vienna, with its impressive architectural history may come across as both exotic and photogenic in ways that can be misleading to one's gaze. From an outsider's view Vienna can also appear to be heavy and layered with historical artifacts that one may not have easy access to. Recording photographically is therefore my way of affecting myself with the city and a way to record how the city affects me in return.
The series Hotel Vienna began with my feeling dislocated in a 'foreign' space and seeking material with which to enter a space which is not my own. I used my camera as a tool to inscribe, question and manipulate history from my particular perspective, while questioning how history has been written from it's own context.
Hotel Vienna investigates an urban landscape and it's symbols. A community of men situated outside Stephansplatz and the 'Mozart Men' who engage and sell concert tickets to tourist.
I got attracted to these men because of the Victorian way of dressing which triggered a relation between time, history and dress code. As this was my entry point to the space it gave me time to engage and question this way of dressing by also looking at it's architectural surroundings.
Hotel Vienna is a work in progress first realized in 2015 through a residency program at the Academy of Fine Arts Vienna."
http://www.stevenson.info/artists/mlangeni.html
Auropa /


During my art residency at the Vienna Art Academy, (between May and July 2015) the migrant crisis was reaching an unprecedented peak, and like many observers worldwide, I was shocked by the tragic images I was seeing in the media and not anticipating that the situation would dramatically worsen in the coming months. At that time, I personally met and interviewed immigrants from Eritrea, Ethiopia and Somalia during my stay in Europe. Touched by the stories I had heard from these survivors, I wanted to compare the sacrifices they had made on their journeys with the harsh realities they would face after reaching Europe.
By creating an intervention in public spaces, (Vienna, Rome, London and Brussels, all places I had visited during my residency), I present authentic and mundane situations in which people's indifference to the newcomer and the newcomer's isolation is revealed. People, busy with their own lives and routines, mostly ignore that I was wearing a life-vest (the kind one only wears in a boat) in the midst of a crowded city, far from any water, lake or sea.
Wearing this vest, I characterize an observer, rather than a functioning participant of society. I impersonate who survived many life-threatening situations just to reach Auropa/

(an Amharic word which literally refers to Europe but conveys the feelings of many Ethiopians that Europe is the promised land of milk and honey), one who did not anticipate the distain he would experience after his arrival. I stand like a statue, without any movement, as locals hustle past me and I mimic the unwelcomed outsider who cannot integrate into the system and who is rendered invisible.
http://mulugetart.tumblr.com/
MAREN GRIMM+JAKOB KRAMERITSCH
"Aus der Distanz schwer möglich. Potemkin, Platin, Postkolonial"
1
One interpretation of the Potemkin legend is a consensual character which stabilizes illusion: Prince Potemkin would have known that Empress Catherine II knew that the villages were mere facade. And Empress Catherine II on the other hand would have known that Potemkin knew that she knew. The both silently agreed to install an "as-if mode": if both of us act as if it would not merely be a mock-up we both could continue with business as usual, without consequences. No one could take action against us as no one could prove that we knew about the deceiving set-up of the facade.
2
On 16. August 2012 34 South African miners were shot by the police while demonstrating with their colleagues for better working and living conditions in the Lonmin Platinum Mines, North of Johannesburg. The Lonmin Concern bears a share of responsibility in the massacre, trying to protect profit and capital through government agents.
3
BASF, the world's largest chemical corporate, based in Germany, is Lonmin's key customer. BASF uses Lonmin's platinum to produce catalysators. BASF is internationally known for vanguarding "supply chain responsibility" buys platinum worth half-a-billion Euro per annum from Lonmin. The miners who procure the most precious metal have been living since decades in quonset slums without electricity, running water and sewage system. When in April 2015 BASF was confronted with the facts during their annual share holder's meeting they said that it would be "difficult to judge from afar" which were the failures of their longstanding supplier. "They must solve things in their own country first".
A workshop report by Maren Grimm and Jakob Krameritsch on a film project on commodity policies and supply chain responsibility.
http://basflonmin.wordpress.com
LYDIA HAMANN + KAJ OSTEROTH
"We are a feminist artist collective based in Berlin and have been collaborating since 2007. Mostly we are expressing our ideas in paintings that we develop and realize in a collective manner. Along the process as a feminist artist collective, we engage in exploring performances and strategies in painting as well as reflecting upon the gaze we feel is directed at us as painters.
In our work we use the traditional medium of painting as a point of departure, not only researching how mainly individual artists have been approaching it, while transposing it into how to work collectively – while also extending the understanding of the medium of painting into the realm of performance and care.
Working with herstory, feminist method and queer-feminist awareness of space and time gives us the possibility to approach the medium of painting from a new perspective. Painting together became our tool to negotiate and engage with the themes of admiration, empowerment, representation and self-care.
The works we create focus on questions which emerged out of previous collective processes and are sharpened throughout our long-term collaboration:
Which knowledge do we bring individually, how do individual or subjective knowledge and ideas merge into a collective idea or even process – if it is not compromising, not genius, what could it be?
How do we bare the differences given – in the discussion and more over on paper (literarily speaking) – or do we rather seek to make the collaborative process invisible?
How do we negotiate working together and how could that possibly create a whole new philosophy of being in the world, with regard to feminism, care work, friendship, carrier building and individual desires?
We seek to address our own role and background as two white academically informed female speakers and artists with a mutual interest in questioning and understanding diversity within society, culture and accessibilities to the world. Knowing that this act of speaking could remain a privileged one and ideally will be accompanied by being reflective and attackable, by knowing its complicated and contingent production. "
http://www.fleeingthearch.org
RUBY SIRCAR
Is happy to host, curate and moderate the project at the VBKÖ!
KINDLY SUPPORTED BY BKA, WIEN KULTUR and ]a[ academy of fine arts vienna