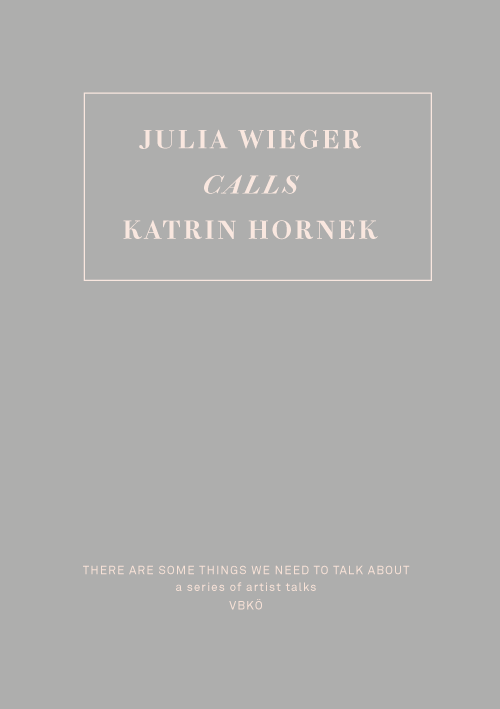 THERE ARE SOME THINGS WE NEED TO TALK ABOUT
A Series Of Artists' Talks On Shared Necessities.
Concept and organization: Katrin Hornek & Johanna Tinzl
Wednesday October 22, 19:00
RICARDA DENZER calls SUSANNE SCHUDA
I was listening to an interview by____ with ____ and ____ . At that time of the interview the two women just published their common book "____" together.
30 years earlier, both of their families have been very close friends. ____ was 13, when her sister and two other murdered ____ father.
30 years later, the younger sister of the ____ was writing a letter to the daughter of the ____
Both women made the same experience of silence within all those past years, as their families were never talking about this part of their lives, for very different reasons. Which was as well a crucial part of the ____ history.
During the newly started exchange it was never clear if the two women will be able to continue their contact, as the communication was very fragile.
The reason why they continued to communicate with each other by writing letters was the tone of the letters.
She said : "Form is healing ".
I thought that was remarkable.
Ricarda Denzer (*1967), a Vienna based artist explores the processes of transformation and translation in the specific context of the cultural and socio-political landscape and its impact on recent times. In her films, audiopieces, drawings, photographs, and installations she utilises a filmic thinking through performative aspects that reflect different forms of narration. Language, particularly the spoken word, listening and sound are central to her work.
Susanne Schuda (*1970) works in the field of text, video, collage, installation, public art, web, performance. "In my work I mostly deal with the state of individuality in society and with a constructed reality. Exaggeration, intensification, new construction of the known and deformation of the habitual exemplify the mechanism of individual subjection." (http://www.susanneschuda.net)
/////////////////////
About the series of artists' talks:
Katrin Hornek and Johanna Tinzl invite four artists to each conceive a talk with a partner of her choice. The idea is to reflect together on art works and artistic practices, on questions of collectivity, and networks of support. In the spirit of this year's program of the VBKÖ – TO ORGANIZE IN FRIENDSHIP! – the dialogical format aims to facilitate a conversation on familiarities and trust, on courage and panic, as well as on what we can, want to, or have to share with each other.
Starting point of each evening will be one sentence proposed by the two conversation partners. These sentences will manifest the evenings in the form of a text. In the manner of Cadavre Exquis, each duo will start their sentence with the last word of the sentence of the previous conversation without the speakers knowing the entire sentence. In this way, the growing text links the five talks to each other as to bring them together in a collectively written story.
A mobile display structure designed by Katrin Hornek and Johanna Tinzl will provide the spatial framing of the series of talks. The conversations and the collectively written text will be documented in a folder that will be part of the VBKÖ Archive.
Conversations:
MARION PORTEN calls JAMIKA AJALON: June 18, 2014
DENIZ SÖZEN calls BRIGITTE KOVACS: June 25, 2014
RICARDA DENZER calls SUSANNE SCHUDA: October 22, 2014
KATRIN HORNEK calls JOHANNA TINZL: December 3, 2014
Preliminary conversations:
JULIA WIEGER (VBKÖ) calls KATRIN HORNEK
KATRIN HORNEK calls JOHANNA TINZL
/////////////////////
PAST CONVERSATIONS:
Wednesday June 25, 7pm
DENIZ SÖZEN calls BRIGITTE KOVACS
Long distance friendship (Paris-Graz)
Deniz Sözen (*1981) is born in Vienna with multiple migration backgrounds. She studied Fine Art at the University of Applied Arts in Vienna (2000-05) and at Goldsmiths College in London (2007-09, AHRC scholarship). In addition to her freelance artistic practice, she has worked as a lecturer at the Institute for Time-based Media at the University of Art and Design Linz (2009-11), as an art educator (Secession Vienna, documenta12 Kassel, Museum Rietberg Zurich) and as a research assistant at the Institute for Art Education at Zurich University of the Arts (2011-12). After a self-organized research visit in Istanbul, she spent six months in Los Angeles as MAK-Schindler-scholarship holder (2013/14). It will be followed by a residency at the Cité des Arts in Paris in spring 2014. Various participations in exhibitions and festivals both nationally and internationally. (www.denizsoezen.net)
Brigitte Kovacs (*1980) received her master's degree in German Philology and Art Education from the Academy of Fine Arts and her master's degree in Fine Arts with a major in Photography from the University of Applied Arts Vienna. Since 2010 she has been working as university assistant at the Institute of Contemporary Art/Graz University of Technology. Her artistic work consists of concept-based performance art, photography and art in public space.
/////////////////////
Wednesday June 18, 2014, 19:00
MARION PORTEN calls JAMIKA AJALON
READY TO RUMBLE?
An encounter in gloves. After Jamika Ajalon and Marion Porten began their work on Harriet Tubman, Ajalon asked Porten if she would re-enact the famous poster of Jean-Michel Basquiat and Andy Warhol together with her. They video recorded the photo shootings and rehearsals.
Jamika Ajalon: "I wanted to experiment with replicating the series of posters that announced their exhibition together, just because I always have. It has something to do with the fact that I felt as if Basquiat could have been a big brother. I identify with his work and the codes within his work. Also, I guess I was always attracted to that relationship, which somehow verged on queer … but there was a dissonance also there … something fabricated … something evidently unreal." (…)
The posters already exist. Now a video is in progress. The idea is to collaborate in the style Basquiat and Warhol did. One started the painting and the other one painted over it.
Marion Porten
I grew up in the FRG and after '89 I left the Western part of Germany to study sculpture and film in cities in the former GDR. Since then, I lived and worked in several places like Banff, Budapest, Bucharest, Columbus, Kiev, Leipzig, New York, Paris, Usti Nad Labem, Vienna and Zagreb. Since 2006 I am teaching at Academy of Fine Arts in Vienna. In 2008, together with my ex-wife, I became a parent of our daughter.
In my videos, installations and drawings, I analyze socially prescribed roles focusing on questions of gender, homophobia and racism. Doing so, an important question is how I can actively work against racism and becoming an ally … rather than getting stuck in a self-centered search of a "critical white" position? I keep my processes of learning and my dialogs visible to the outside, what leads to collaborations with other artists.
Jamika Ajalon
A disciple of the creative, Jamika is an inter-disciplinary artist who works with different media independently, but also in multiple fusions – incorporating written and spoken text, sound/music, and visuals. A nomad, Jamika grew up in the USA, but has lived for years in various European countries, including England, Germany (for short periods in Berlin) and now France. She has also travelled within Africa, where she has met and collaborated with artists and academics who challenge 'frontiers' and are planting seeds. Jamika has performed, recorded, published and exhibited her work in various cities including: Vienna, London, Berlin, Senegal, Kampala, and Paris.