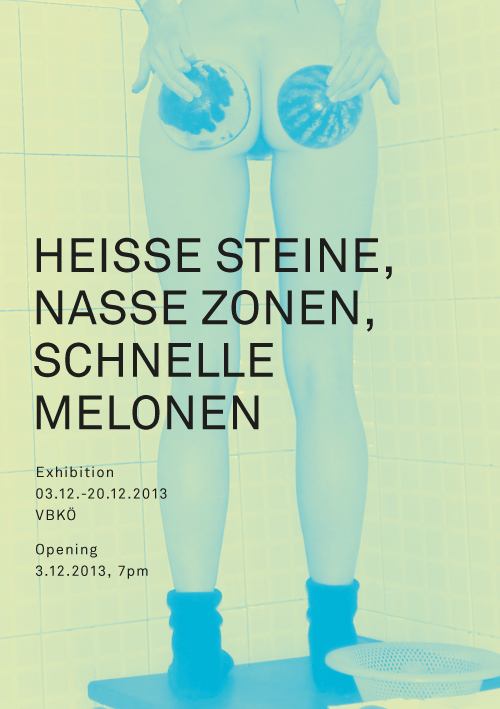 we herewith stormily invite you to the opening of
HEISSE STEINE, NASSE ZONEN, SCHNELLE MELONEN
(HOT STONES, WET ZONES, FAST MELONS)
the annual statement exhibition of interscholastic, fantastic and iconoclastic affairs
at the bombastic VBKÖ, up the stairs
Maysedergasse 2/4th floor
1010 Vienna
GRANDE OPENING
TUESDAY
december the 3rd
7pm
EXHIBITION OPENING TIMES fridays and saturdays: 3-7pm
24 positions
1 exhibition
works we love,
works we adore,
works that make us throw up our hands in horror,
all in one room por favor.

WITH:
Captain Cunt
Katharina Lampert
Simon Foxall
Toni Schmale
Katrina Daschner
Marianne Vlaschitz
Ralo Mayer
Anja Ronacher
Fahim Amir
Ursula Maria Probst
Veronika Hauer
Roberta Lima
Johanna Kirsch
Moira Hille
Daniel Hafner
Melanie Bonajo
Candida Powell-Williams
Jonathan Baldock
Ilja
Jossi
Paul de Florian
Krôôt Jurak
Nicole Miltner
Angela Wiedermann.
HEISSE STEINE, NASSE ZONEN, SCHNELLE MELONEN
is about playing.
about deconstructing and transforming identities while doing so.
we are and we are not…
a torrent of flowing bodies in all states of desire.
a lesbian drag-queen, a bi-sexual macho squirrel, an aroused rock formation.
KOMMEN SIE ALLE,
lets enlighten dark dark viennese december together.
pantha-rhei, play!
beaming with prejoy
elke & esther
Fotos: Julia Gaisbacher