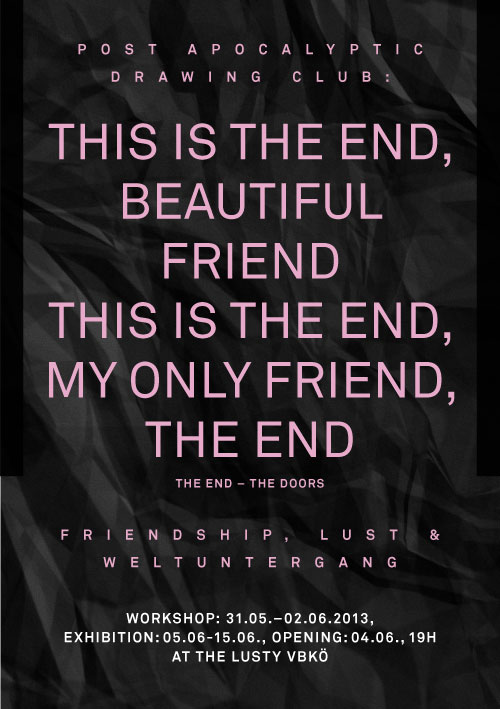 post apocalyptic drawing club

open workshop for drawing lovers at
Vereinigung bildender Künstlerinnen Österreichs (VBKÖ)
(denglisch version below)
workshop at the VBKOE:
Freitag, 31.05.
Samstag, 01.06.
Sonntag, 02.06.
jeweils 14.00 bis 20.00
Eröffnung:
Dienstag, 04.06., 19.00
Wir haben 8 bis 12 Plätze für Interessierte
Anmeldung unter
Vereinigung bildender Künstlerinnen Österreichs (VBKÖ)
Maysedergasse 2/4. Stock (Lift)
1010 Wien
Wir: haben Papier, Stifte, Drinks und theoretischen Input zum Ende der Welt
Du: bringst was immer du selbst für Zeichnung bevorzugst mit
ev. schon so etwas wie ein Portfolio mit eigenen Zeichnungen um sie zu präsentieren
It's free, you are welcome!
denglish:
time table :
Friday, 31.05.
Saturday, 01.06.
Sunday, 02.06.
2.00 p.m till 8.00 p.m.
Opening
Tuesday, 04.06.
7.00 p.m.
Vereinigung bildender Künstlerinnen Österreichs (VBKÖ)
Maysedergasse 2/4. Stock (Lift)
1010 Wien
We offer: paper, pencils, drinks and some theoretical input about the(failed) Weltuntergang
You: bring everything you want to draw with/on
bring drawings/own work if you want to have artist talks about your stuff too
Artists:
You and me and everyone we now
Ango the Meek Dead (Milano/Berlin)
Spencer Chalk-Levy(NYC/Berlin)
Paul DeFlorian (Vienna/Berlin)
Why we like the end? So this is the end? Probably not. We survived 2012, Weltuntergang, Eurogeddon, Apocalypse etc. … and again(pseudo) religious apocalyptic visions were wrong, like they always are, when they try to determinate our lives, bodies and minds. So we have to figure out what to do with ourselves by our own and encourage everyone to leave their old lives, join us with a pencil and to celebrate the flamboyant feeling to draw without an end;
Together we will observe images of the Weltuntergang itself, the post apocalyptic body and societies imagination of the end.
Not to forget our old buddy Hieronymus Bosch, who seems really drawn to the theme of Weltuntergang in his creations and especially luxuria our favorite sin, we all can't wait to commit.
We will try to figure out how an end of the leading hierarchies can push different positions upwards society or how non hegemonic identities become more mainstream without loosing their subversive powers.
It is a love song for all the not-so-virginal effeminates, the not-so-well-hung paradise exhibitionists, the rough leather ladies from the garden of delight, the double draggers, and power bottoms from the end of time, held together with our pencil strokes.
In the end we, the post apocalyptic drawing clubbers, will draw and practice witchcraft, destroy capitalism and stupid gender identities.
We will evoke strange symbols and signs and create an iconoclastic picture tsunami to blow all shit out of our heads. That is what we call a shitstorm after the end of the world.