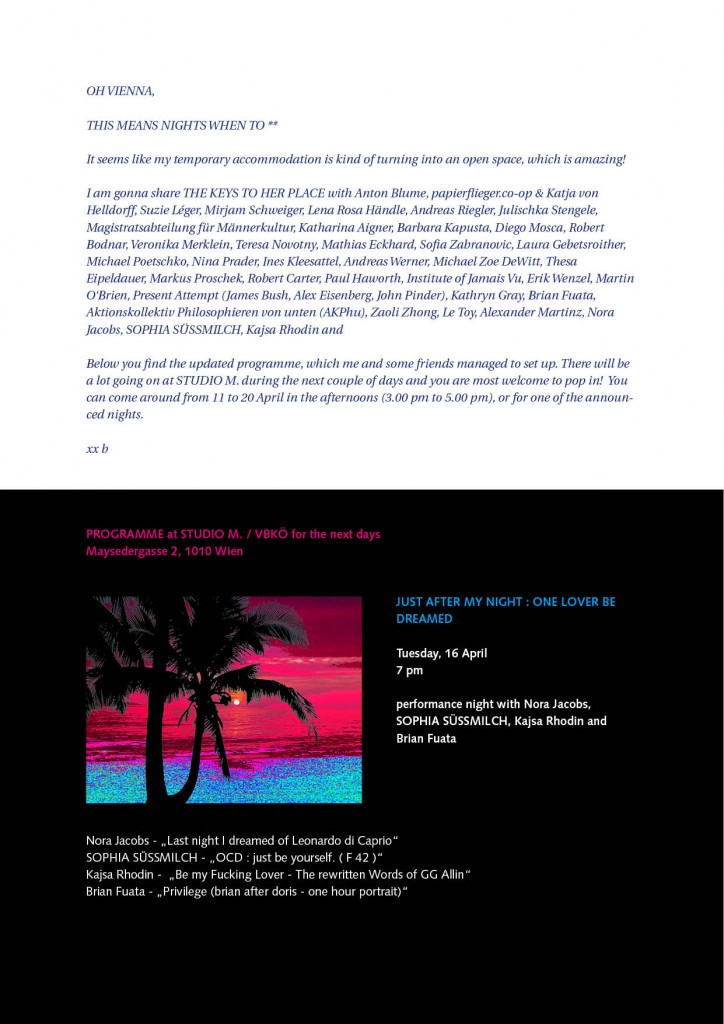 from: Bernadette Anzengruber
to: undisclosed recipient
subject: THE KEYS TO HER PLACE
dear all,
as promised for so long, I will be in town – just for a couple of days and I am excited about catching up and hanging out with you!
Concerning accommodation I have to disappoint you: I won't crash your cozy couches this time as I have – unexpectedly – been offered the most amazing place to stay: it's the studio/flat of an acquaintance's friend called Margaret (do you know her?), right in the city centre on the top floor of a beautiful old building (that's what I was told) and I already got THE KEYS TO HER PLACE! So let's seize the opportunity and have glamorous parties, special performance- and movie-nights or a dinner at "mine". I will keep you updated about my plans (will let you know later on this week).
I am gonna arrive on Wednesday 10 April in the late afternoon and will have just enough time to prepare some drinks and snacks for a decent house warming, so do come over at around 7pm. The address is Maysedergasse 2, 1010 Vienna and the name on the door is "STUDIO M./VBKÖ".
If you can't make it for the house warming, please do drop in any other afternoon (3pm to 5pm) between 11 and 20 April, or come over either for one of the special nights I am gonna host or for my going away on 20 April!
see you soon,
xx b