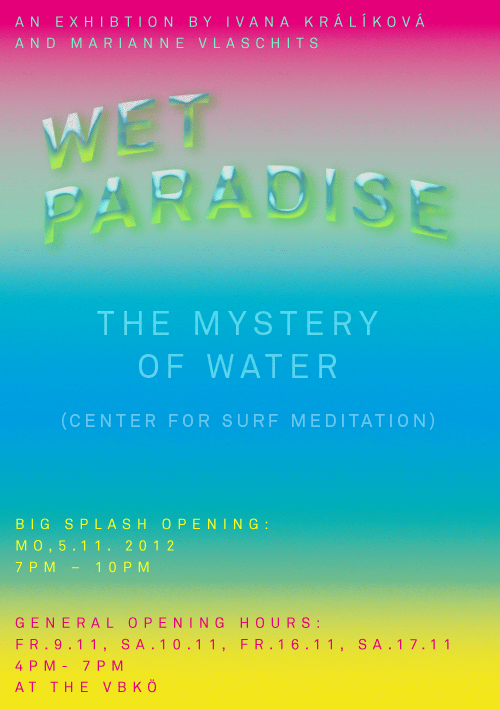 ,

WET PARADISE – The Mystery of Water
(Center for Surf Meditation)
Ivana Králíková and Marianne Vlaschits
Opening: Nov 5, 7-10pmh
Opening times: Fr: Nov 9 and 16, Sa: Nov 10 and 17, 4-7pm
Cast your anchor and rest, celebrate your need for relaxation and practice the art of catching the perfect wave. Find your inner balance through the techniques of surfing and the power of water!
Inspired by the three surfboards in her second name and the knowledge she gained from one of the lakes in Stockholm during the summer holiday, Ivana Králíková
visits Vienna for 13 days to build a spiritual wellness center together with Marianne Vlaschits. Vlaschits gained her inspiration from journeys through the caribbean and along central american coasts, she is interested in male physiques in wet surroundings.
Water is an important source for finding one's own rhythm.
This is why water is a key player in WET PARADISE.
As soon as you enter through the waterfall you will shed part of your daily routine. The burden of everyday life will just drift to the bottom of the glowing Pool. And once in the grotto-pool, thoughts and worries will dissolve completely. The sound and vibrations of the water will take away what you no longer want to carry around with you. You swim on, breathe a sigh of relief, and find yourself.
This is how it should be.
The surf area is laid out like a long shore line. Follow it, and you will be amazed: tanned bodies, big waves, sea foam and flashy boards are waiting to be discovered. Collected on a fake beach scenery, the water invites you to enjoy, let go and float.
WET PARADISE offers plenty of ideas for your enjoyment,
many more than you would ever dream of!
Ivana Králíková
born 1980 in Zlín, Czech Republic, lives and works in Stockholm, Sweden
Education:
2008-2010 Konstfack, Stockholm
2007 GSA Glasgow
2003-2008 AAAD Prague
Exhibitions – projects:
2012 "Keep your collaborator hungry"
2012 Rum för död, Arkitektur museet, Stockholm
2012 At the end of the rainbow, Vienna
2011 The Sea Exhibition, ongoing – Stockholm
2011 24/7 Tight Schedule, CCS Bard, New York
2011 Country New Wave, Czech Centre Stockholm, Stockholm
2011 Awkward Dinner, gallery Tegen 2, Stockholm
2011 Supermarket, Kulturhuset, Stockholm
2010 Snowing like hell INN, Brunnsvik konst, Dalarna
2010 I don 't cook here the kitchen is too small, blås & knåda gallery, Stockholm
2010 Why do you cook? What would I eat if I did not cook? Konstfack, Stockholm
2009 Non ci resta che piangere, ShowKonstfack, Stockholm
2009 Dealing with the mafia, Konstfack
Ceramic is the tangible thread in her work – it goes to different directions in order to update its possibilities. She works with sculpture, tableware, site specific pieces or mixes all of them together. There were times when she slept over clay when stored ceramic materials under her bed as a building back up for forthcoming exhibitions. With the work Why do you cook ? What would I eat if I did not cook ? she suggested how contemporary tableware can look. These pieces originated in a self established space which she defined as " under the working table studio " a provisional room used as a method to deal with shyness in crowded workshop. For another occasion, in collaborative endeavour Awkward dinner she used the
" awkward " to enact the production dynamics inside of a group of collaborators where she explored tableware beyond its functionality – it grew, so that instead of producing utility objects she tried out the volume clay is capable of bearing. In the video work " Keep your collaborator hungry " she portraits potter 's studio practice through a relationship between the maker and an animal – pet. It questions the working routines of a human, how one mirrors " the other 's " behavior and how the maker projects desires onto the animal.
Marianne Vlaschits
geboren 1983 in Wien, lebt und arbeitet in Wien
Ausbildung
2005-2010 Akademie der bildenden Künste, Wien
2009 Slade School for Art, London
Ausstellungen und Stipendien (Auswahl)
2012 Artist in Residence, BMUKK, Mexico City
2012 Immer bunter, Galerie im Taxispalais, Innsbruck
2012 Riepl & Co Marianas Trench Inc., Open Source Gallery, New York
2012 Garden of Lust, Performance, Mo.e, Wien
2011 Sing, mein Engel der Lieder, Performance, Donaufestival, Krems
2011 Awkward Dinner, Tegen 2, Stockholm
2011 Bowerbirds, Styx Projects, Berlin
2010 Matador Beach, Ve.Sch, Wien (solo)
2010 Talentestipendium Ö1
2010 Lebt und arbeitet in Wien, Kunsthalle Wien
2010 Knock Knock, Styx Projects, London
2010 Access and Paradox Artfair, Paris
2009 Nominees Koschatzkypreis, Mumok, Wien
2008 Sexiness, Performance, Brut Konzerthaus, Wien
2008 Asshole Island, C17, Wien (solo)
2006 Faktum Flakturm, Wien
Marianne Vlaschits beschäftigt sich mit dem nie zufriedenstellend stillbarem Verlangen nach vollendeter Schönheit und Exotik. Ihr Interesse beginnt beim menschlichen Körper und seinem Begehren und führt, dieser Logik folgend, zur Erschaffung künstlicher Paradiese.
Überall, wo Heilsversprechen gegeben werden, untersucht sie diese auf ihren Wahrheitsgehalt. Eklektizistisch bedient sie sich dabei im Fundus der Kulturgeschichte und verknüpft Themen wie antike Mythologie, mittelalterlicher Karneval, eurozentrische Südseefantasien, barocke Gartenkunst und amerikanische Trash-TV-Shows miteinander.
Stets ausgehend von ihrer plakativen, ungezügelten Malerei, entwickelt sie multimediale Installationen als Erweiterung der Bilder in den dreidimensionalen Raum.
Mittels performativer Interventionen entstehen so farbenprächtige Tableaux Vivants, deren Ziel die Visualisierung eines utopischen Gedanken ist. Diese fiktiven Parallelwelten verlieren jedoch nie den Bezug zur Realität.
Sie sind die lustvolle, überschäumende Verkörperung menschlicher Sehnsüchte, deren mögliche Erfüllung stets von einem üblen Beigeschmack endzeitlicher Dekadenz überlagert wird.