xxxxxxxxxxxxxxxxxxxxxxxxxxxxxxxxxxxxxxxxxxxxxxxxxxxxxxxxxx
AN EXHIBITION BY ELKE AUER & ESTHER STRAGANZ
THE MONUMENTAL MENTAL PICK OF THE BUNCH
FROM THE LAST 18 MONTHS
BOB, BRONCO, PAULI AND THE ANTENNA
WILL FINALLY VOOKOOV VIENNA
WITH CAMEO APPEARANCES OF OUR MEDIUM FELIPE CAMPOS
AND SELECTED CHARACTERS FROM THE WELL-SORTED
WALD & ASPHALT COLLECTION OF DANIEL HAFNER
OOOOO
PENING
26th OF APRIL
7 PM
AT OUR FAVOURITE FLYING PLATEAU
THE VBKÖ, YO
MAYSEDERGASSE 2/ 4TH FLOOR
1010 VIENNA
OPENING HOURS:
27TH OF APRIL – 2ND OF MAY
EVERY DAY FROM 4PM TO 8PM
BRING SCHNAPS, FIENDS & FRIENDS
FATA BANANAS AND WET PYJAMAS
SAY YES, SAY ASS!
PS:
SHAKE THE CAKE
MAKE FOAM
FUCK ROME
xxxxxxxxxxxxxxxxxxxxxxxxxxxxxxxxxxxxxxxxxxxxxxxxxxxxxxxxxxxxxxxxxxxxxxxxxxxxxxxxxxxxxxxxxxxxxxxxxxxxxxxxxxxxxxxxxxxxxxxxxxxxxxxxxxxxxxxxxxxxxxxxxxxxxxxxxxxxxxxxxxxxxxxxxxxxxxxxxxxxxxxxxxxxxxxxxxxxxxxxxxxxxxxxxxxxxxxxxxxxxxxxxxxxxxxxxxxxxxxxxxxxxxxxxxxxxxxxxxxxxxxxxxxxxxxxxxxxxxxxxxxxxxxxxxxxxxxxxxxxxxxxxxxxxxxxxxxxxxxxxxxxxxxxxxxxxxxxxxxxxxxxxxxxxxxxxxxxxxxxxxxxxxxxxxxxxxxxxxxxxxxxxxxxxxxxxxxxxxxxxxxxxxxxxxxxxxxxxxxxxxxxxxxxxxxxxxxxxxxxxxxxxxxxxxxxxxxxxxxxxxxxxxxxxxxxxxxxxxxxxxxxxxxxxxxxxxxxxxxxxxxxxxxxxxxxxxxxxxxxxxxxxxxxxxxxxxxxxxxxxxxxxxxxxxxxxxxxxxxxxxxxxxxxxxxxxxxxxxxxxxxxxxxxxxxxxxxxxxxxxxxxxxxxxxxxxxxxxxxxxxxxxxxxxxxxxxxxxxxxxxxxxxxxxxxxxxxxxxxxxxxxxxxxxxxxxxxxxxxxxxxxxxxxxxxxxxxxxxxxxxxxxxxxxxxxxxxxxxxxxxxxxxxxxxxxxxxxxxxxxxxxxxxxxxxxxxxxxxxxxxxxxxxxxxxxxxxxxxxxxxxxxxxxxxxxxxxxxxxxxxxxxxxxxxxxxxxxxxxxxxxxxxxxxxxxxxxxxxxxxxxxxxxxxxxxxxxxxxxxxxxxxxxxxxxxxxxxxxxxxxxxxxxxxxxxxxxxxxxxxxxxxxxxxxxxxxxxxxxxxxxxxxxxxxxxxxxxxxxxxxxxxxxxxxxxxxxxxxxxxxxxxxxxxxxxxxxxxxxxxxxxxxxxxxxxxxxxxxxxxxxxxxxxxxxx
xxxxxxxxxxxxxxxxxxxxxxxxxxxxxxxxxxxxxxxxxxxxxxxxxxxxxxxxxxxxxxxxxxxxxxxxxxxxxxxxxxxxxxxxxxxxxxxxxxxxxxxxxxxxxxxxxxxxxxxxxxxxxxxxxxxxxxxxxxxxxxxxxxxxxxxxxxxxxxxxxxxxxxxxxxxxxxxxxxxxxxxxxxxxxxxxxxxxxxxxxxxxxxxxxxxxxxxxxxxxxxxxxxxxxxxxxxxxxxxxxxxxxxxxxxxxxxxxxxxxxxxxxxxxxxxxxxxxxxxxxxxxxxxxxxxxxxxxxxxxxxxxxxxxxxxxxxxxxxxxxxxxxxxxxxxxxxxxxxxxxxxxxxxxxxxxxxxxxxxxxxxxxxxxxxxxxxxxxxxxxxxxxxxxxxxxxxxxxxxxxxxxxxxxxxxxxxxxxxxxxxxxxxxxxxxxxxxxxxxxxxxxxxxxxxxxxxxxxxxxxxxxxxxxxxxxxxxxxxxxxxxxxxxxxxxxxxxxxxxxxxxxxxxxxxxxxxxxxxxxxxxxxxxxxxxxxxxxxxxxxxxxxxxxxxxxxxxxxxxxxxxxxxxxxxxxxxxxxxxxxxxxxxxxxxxxxxxxxxxxxxxxxxxxxxxxxxxxxxxxxxxxxxxxxxxxxxxxxxxxxxxxxxxxxxxxxxxxxxxxxxxxxxxxxxxxxxxxxxxxxxxxxxxxxxxxxxxxxxxxxxxxxxxxxxxxxxxxxxxx
xxxxxxxxxxxxxxxxxxxxxxxxxxxxxxxxxxxxxxxxxxxxxxxxxxxxxxxxxxxxxxxxxxxxxxxxxxxxxxxxxxxxxxxxxxxxxxxxxxxxxxxxxxxxxxxxxxxxxxxxxxxxxxxxxxxxxxxxxxxxxxxxxxxxxxxxxxxxxxxxxxxxxxxxxxxxxxxxxxxxxxxxxxxxxxxxxxxxxxxxxxxxxxxxxxxxxxxxxxxxxxxxxxxxxxxxxxxxxxxxxxxxxxxxxxxxxxxxxxxxxxxxxxxxxxxxxxxxxxxxxxxxxxxxxxxxxxxxxxxxxxxxxxxxxxxxxxxxxxxxxxxxxxxxxxxxxxxxxxxxxxxxxxxxxxxxxxxxxxxxxxxxxxxxxxxxxxxxxxxxxxxxxxxxxxxxxxxxxxxxxxxxxxxxxxxxxxxxxxxxxxxxxxxx
In their second exhibition at the VBKÖ Elke Auer & Esther Straganz showed three cycles of work that they have created over the last 18 months.
———————————-
———————————-
First Cycle
LICK OUR SOULS
Installation
Say hello to BOB the holy cross dresser, BRONCO the shiny chav, RIDER the domesticated banana and PAULl the ultra realistic hole.
For "Lick Our Souls" the artists have been working on becoming wave – a giant wave of many hands, legs and souls, rolling fast, wild and unstoppable, collecting all kinds of vectors of collective queer intelligence.
The installation involves several inflatable and solid sculptures, photographs, drawings and collages; a multi-dimensional inter-zone with all kinds of sex toys, possibilities and conflicts, both welcoming and confrontational.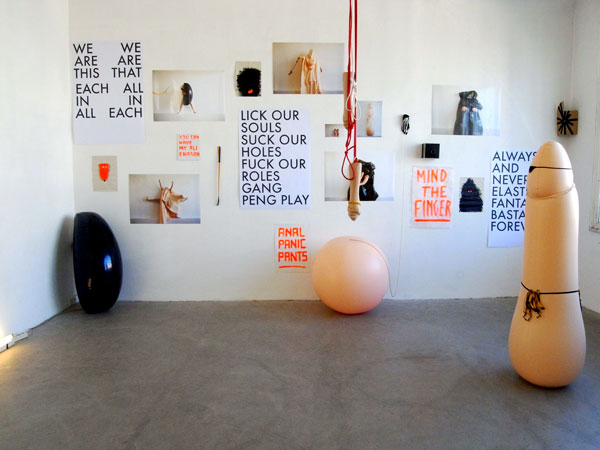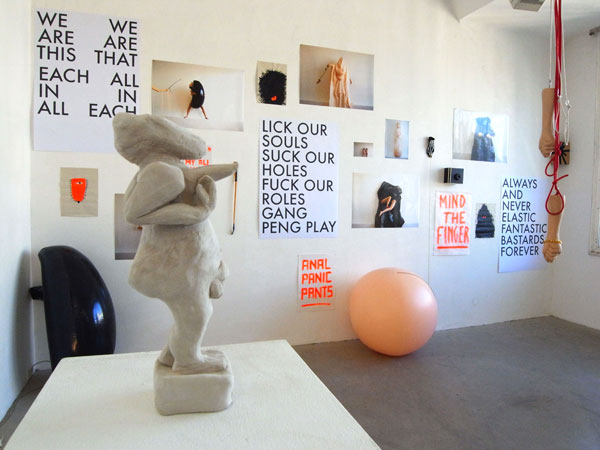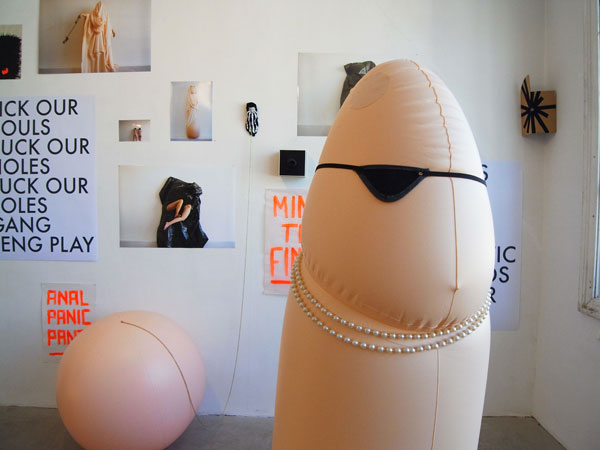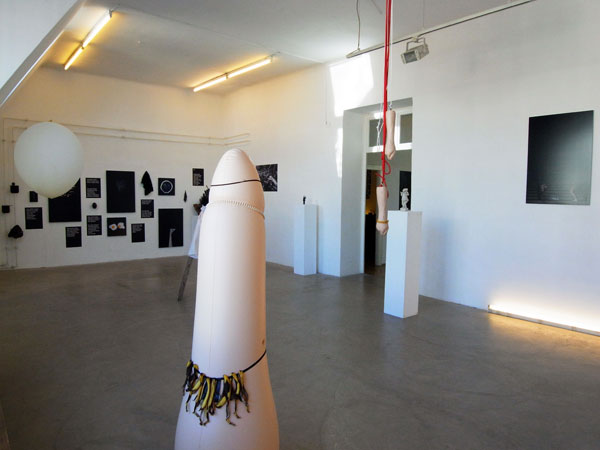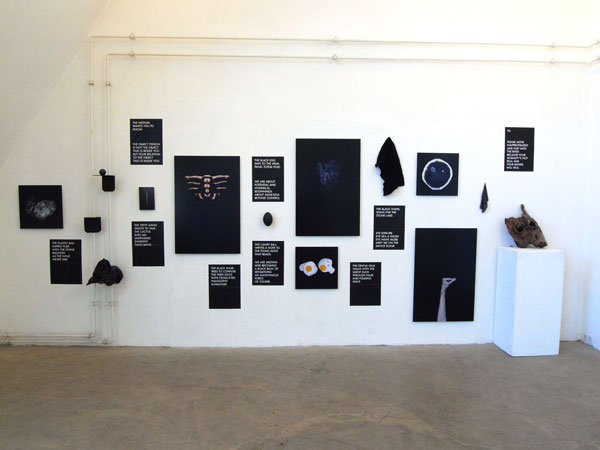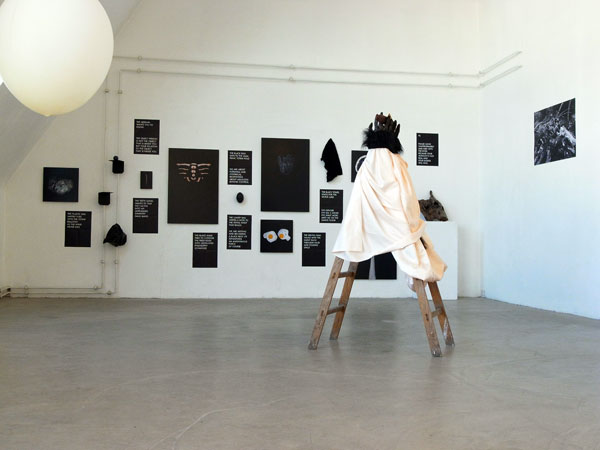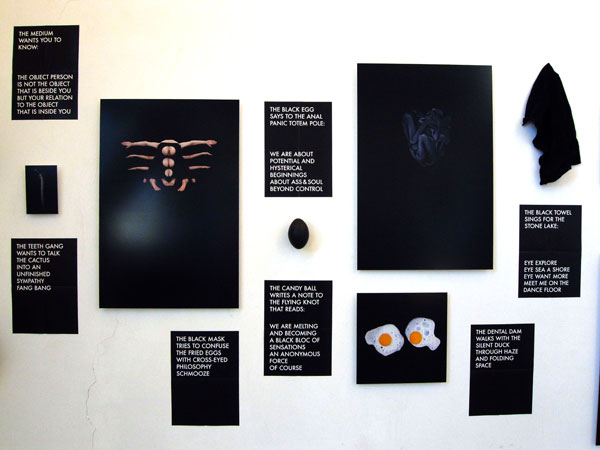 Second Cycle
IF IT IS NOT BESIDE YOU IT IS INSIDE YOU
7 Photographs, Posters, Objects
In the summer of 2011 the artists joined up with the Brazilian medium and photographer Felipe Campos to explore the concept of animism and their shared interest in the soul of objects.
What if we attribute social roles to stones or towels, if laptops solidarise with lap-dogs, if demystified objects strike back?
IF IT IS is about "mana", the power of the soul, and those bastards that populate the blurred boundary between body and soul, subject and object, human and non-human.

Third Cycle
VOOKOOV
Photo series
VOOKOOV is playing with forces
VOOKOOV is a bloc of sensations
VOOKOOV is a minimal animist condition
VOOKOOV is cross eyed philosophy
VOOKOOV is unfinished sympathy
VOOKOOV is a collection of affects
VOOKOOV is dancing with black sneakers
VOOKOOV is awareness
VOOKOOV is a spitting spirit
VOOKOOV is bastardization vs. purification
VOOKOOV is manamana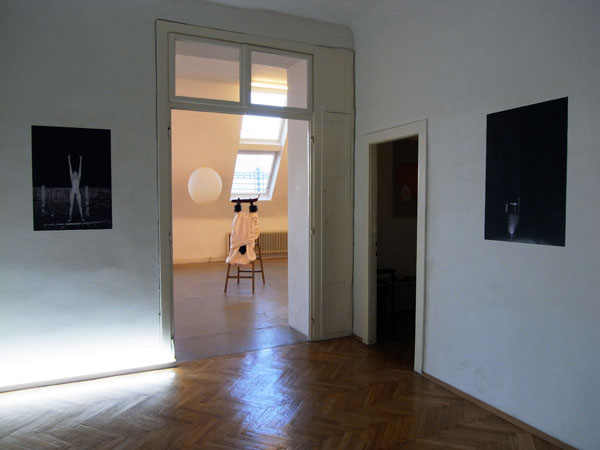 vookoov.net——————
————-
–
——————–
Elke Auer (1980) and Esther Straganz (1979) work with found and bought things and with poems and bodies on performative sculptures, photographs and installations.
They both studied at the University of Applied Arts in the class of Karel Dudesek respectively Peter Weibel, and have been working together since the turn of the millenium.
In 2008 they started to work on and with monsters and assembled "The League Of Extraordinary Bastards" in Sao Paulo, Brazil. A handful of monsters were recruited to deal with questions of normativity and desire, radically extended, stretched, knotted and fragmented bodies.
More recently they established the minimal, animist condition VOOKOOV and are particularly interested in ritual & play, monsters, eggs, relations with non-human people, antennas, vibration & contamination, phantom space, energy from dead stars, tarantism, relics fetishism and all kinds of holes.
They lick souls and they like sudden movements.