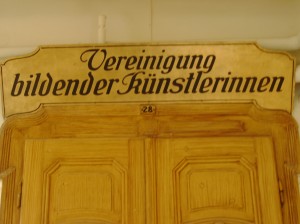 1910-2013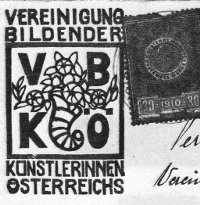 Abb: 1. Logo der VBKÖ 1910 (ARCH 1, Archiv der VBKÖ)
1910 Foundation of the VBKÖ in Vienna
1910 – 1916 1st president: Baronin Olga Brand-Krieghammer (Vienna 1871- ?)
1910/11 1st exhibition "Die Kunst der Frau" at the Secession
1912 The VBKÖ rented the space on the top floor, thereby enabling the unhindered and entirely self-determined work on the improvement of the "economic and artistic conditions for women artists."
1916–1923 2nd president: Baronin Helene Krauss (Wien 1876–1950 Millstatt, Kärnten)
1919 Foundation of the first spin-off of the VBKÖ "Freie Vereinigung"
1923–1924 Jakob Levy Moreno (Bukarest 1889–1974 Beacon, NY), psychiatrist and psychosociologist, thinker and educator, the founder of psychodrama, and the pioneer of group psychotherapy, rented one room at the VBKÖ for his theatre experiments.
1923–1938 3rd president: Louise Fraenkel-Hahn (Vienna 1878–1939 Paris)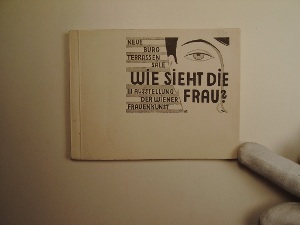 Abb: Cover des Ausstellungskataloges zur III Ausstellung der Vereinigung bildender Künstlerinnen und Kunsthandwerkerinnen Wiener Frauenkunst "Wie sieht die Frau?" (17. Mai – 29. Juni 1930) in den Neuen Burgterrassensälen der Hofburg, (Druck 24, Archiv der VBKÖ)
1926 Foundation of the second spin-off of the VBKÖ "Wiener Frauenkunst". Ihr traten Künstlerinnen der inzwischen aufgelösten "Freien Vereinigung" sowie der "Wiener Werkstätte" bei.
1938 temporary head: Sophie Noske-Sander (Vienna 1884–1958 Vienna)
1938 1st renaming of the VBKÖ in "Künstlerverband Wiener Frauen"
1938 The "Wiener Frauenkunst" and the "Verein Wiener Arbeitsbund" are incorporated into the "Künstlerverband Wiener Frauen"
1939–1944 4th president: Stephanie Hollenstein (Lustenau 1886–1944 Vienna)
1941 2nd renaming in "Vereinigung bildender Künstlerinnen der Reichsgaue der Ostmark (im großdeutschen Reich)"
1942 3rd renaming in "Vereinigung bildender Künstlerinnen, Sitz Wien"
1944–1968 5th president: Grete Kmentt-Montandon (Wien 1893–1986 Wien)
1946–1956 The "Wiener Frauenkunst" regroups
1947 Reorganisation to the original naming "Vereinigung bildender Künstlerinnen Österreichs"
1968–1984 6th president: Gertrude Stöhr (Vienna 1915–1984 Vienna)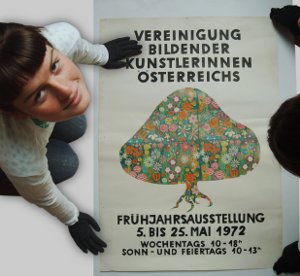 Abb: Poster zur Frühjahrsausstellung der VBKÖ 5.-25. Mai 1972 (Werk 94/2, Archiv der VBKÖ)
1985–1993 7th president: Friedl Corcoran (Olmütz, Tschechien 1922–1993 Vienna)
1993–1998 8th president: Elisabeth Demarest (Olmütz, Tschechien, 1925)
1998–2011 9th president: Rudolfine Lackner (Graz, Austria, 1967)
2012 During the transition process the VBKÖ redesigned membership modalities, established a wider executive board, and will introduce an external advisory board.
The new executive board was expanded to 7 people and consists of Elke Auer, Veronika Dirnhofer, Lina Dokuzovic, Hilde Fuchs, Nina Höchtl, Ruby Sircar, Esther Straganz and Julia Wieger.
2013 Board: Elke Auer, Veronika Dirnhofer, Lina Dokuzovic, Hilde Fuchs, Nina Höchtl, Ruby Sircar, Esther Straganz, Julia Wieger
Advisory board:
Andrea Braidt, Ricarda Denzer, Doris Guth, Margarethe Makovec, Sushila Mesquita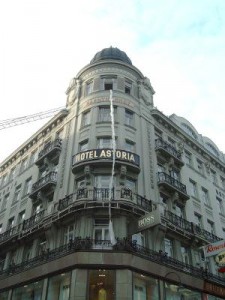 Abb: Rapunzelzopf, von der Künstlerinnengruppe "a room of one's own", Plastikfolie, ca. 15 m, ausgestellt anlässlich der Ausstellung "archiv" in der VBKÖ 17. – 26. März 2004 (Werk 2, Archiv der VBKÖ)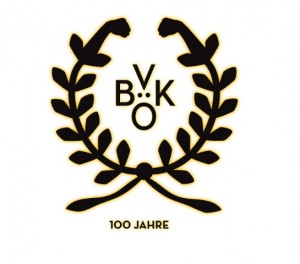 1910-2010 Centennial Anniversary of the VBKÖ
1912-2012 Centennial Anniversary of the VBKÖ at Maysedergasse 2/4th floor, 1010 Vienna